SPIE's OSETI III Conference (4273)
The Search for Extraterrestrial Intelligence (SETI)
in the Optical Spectrum III
Third International Conference on Optical SETI
40th Anniversary of the Classic Paper by Schwartz and Townes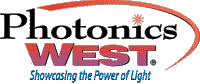 Part of SPIE's International Symposium
LASE 2001
High-Power Lasers and Applications
January 20-26, 2001
Laser Propagation and Communication
Program Chair: G. Stephen Mecherle
Free-Space laser Communication Technologies XIII (LA06)
Optical Pulse and Beam Propagation III (LA07)
San Jose Convention Center, January 22-24, 2001

Optical SETI III and Free-Space Laser Communications XIII are complementary meetings
Keynote Address

Professors Chandra Wickramasinghe & Fred Hoyle
The Unity of Cosmic Life and the Inevitability of Evolved Life Forms
Special Invited Paper
Nobel Laureate, Professor Charles H. Townes
Reflections on Forty Years of Optical SETI -- Looking Forward and Looking Backward
Call For Papers
Download the official SPIE Call For Papers in PDF format (126 kbytes). This file gives full details on how to submit abstracts and papers, and is suitable for printing. If you have already submitted an abstract by email to Stuart Kingsley, please do so again in the format requested, and via the Web form on SPIE's site. Please include you brief biography, as instructed, as session chairmen will use the biographical materials to introduce speakers. SPIE (The International Society for Optical Engineering) will ensure that all committee members are emailed copies of the submissions. All committee business will be done via email and over a HearMe Chat Room.

Download Acrobat Reader 4.05
Meeting Registration Information
SPIE's Web Form for Abstract Submissions or
Email Abstract Submissions (see instructions in PDF file above)
Author Guidelines for Proceedings
Important Dates:

Final Summary Due Date: 20 November 2000
Manuscript Due Date: 18 December 2000
Chair: Dr. Stuart A. Kingsley, Director, COSETI Observatory
Cochair: Dr. Ragbir Bhathal
Keynote Speaker: Professor Chandra Wickramasinghe
Duration: 2 1/2 days
Number of Sessions: 5 + Poster Session
Standard Papers: 15 minutes + 5 min Q&A
Invited Papers: 35 minutes + 5 min Q&A

Committee:
Dr. Stuart A. Kingsley, Director, COSETI Observatory, Columbus, USA.
Dr. Ragbir Bhathal, Chairman/Director, Australian Optical SETI Project, Rotary Observatory, University of Western Sydney Macarthur, Australia.
Monte Ross, President, Ultradata Systems, St. Louis, USA.
Dr. Dan Werthimer, Project Serendip, Space Science Laboratories, Berkeley, USA.
Dr. Douglas Vakoch, Social Scientist, SETI Institute, Mountain View, California, USA.
Dr. Allen Tough, "Invitation to ETI" Group Coordinator, University of Toronto, Canada.
Dr. Barrie W. Jones, Head of the Physics and Astronomy Department, The Open University, Milton Keynes, United Kingdom.

The OSETI I and OSETI II Proceedings are still in print and available from SPIE.