Article 1 - New Scientist
New Scientist, December 12, 1992, p. 48.
When will Earthlings see the light?
Some Background Information
On Labor Day, 1992, Nigel Henbest and Heather Couper (Pioneer TV Productions) and their TV production crew, spent a long day at Ohio State's Big Ear Radio Observatory, shooting video for their Channel 4 (U.K.) and ABC TV (Australia) co-production ET Please Phone Earth. This Equinox program aired in the U.K. on December 20, 1992. I was interviewed about Optical SETI near City Hall in downtown Columbus, with a laser light show in the background. This interview was before I started building my own observatory. That December, my family back in the U.K. were eagerly awaiting my debut on British Television (see footnote at end of the above article). Just two weeks before air-time, and after the above article was written, I received word from Nigel Henbest that my interview had ended up on the "cutting-room floor". The Australian ABC co-producer felt that to introduce "Optical SETI" during the last five minutes of a documentary on conventional Microwave SETI would confuse the public. Had this OSETI segment be included, it would probably have marked the first time that this approach had been covered by a SETI documentary. This was a Pioneering opportunity missed!
The above New Scientist article initiate a strong response from the late Dr. Bernard Oliver, then Deputy Chief of the SETI Office which was located at the NASA Ames Research Center in California. Barney had hosted the Pioneer TV Production crew for their segment of the documentary and was rather disturbed that Nigel Henbest was so enthusiastic about the optical approach to SETI. Many of the issues raised in his letter are discussed elsewhere on this web site. The important point I make is that while "we" cannot presently make use of the high gain that optical transmitters afford, the day will come when "we" can. I remember that when I first met Barney and his colleagues at NASA- Ames in April 1991, Barney said to me after my presentation "I thought I told you not to talk about the high gains of optical antennas". It would have rather pre-emptied my talk had I taken up his advice! Here now is Barney Oliver's response to Nigel Henbest's article:
Stuart Kingsley
Composed: September 1997
Revised: March 1999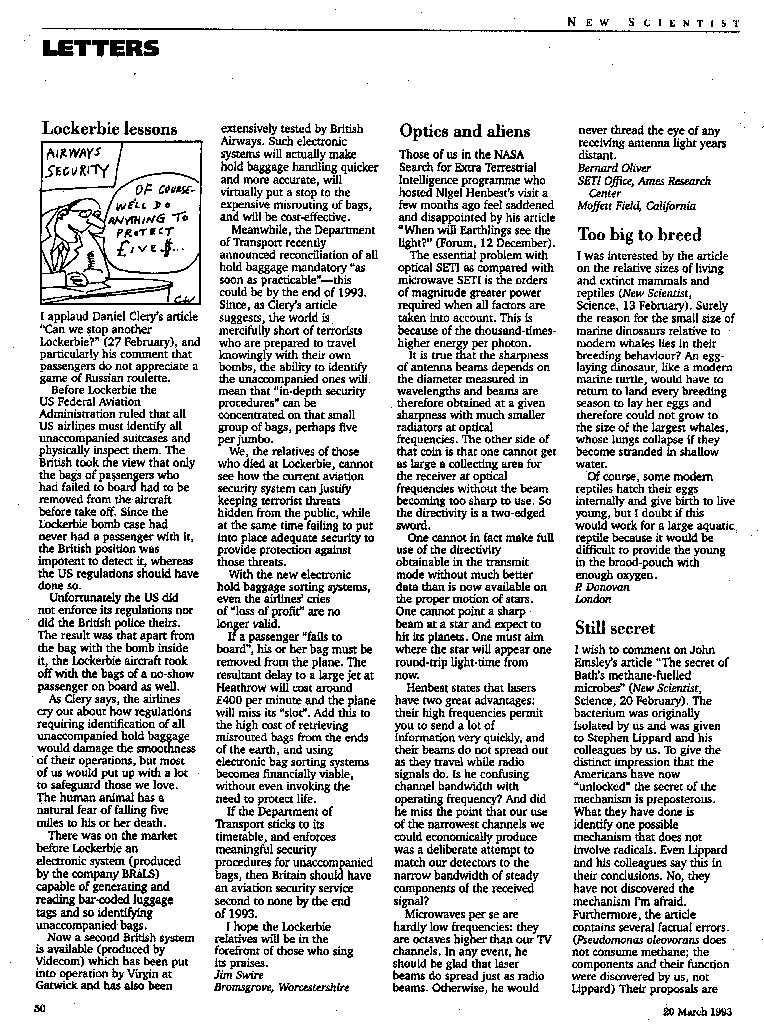 Optics and aliens
---