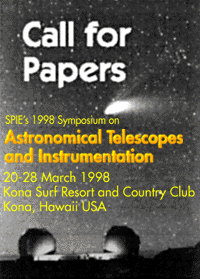 Sponsored by
SPIE - The International Society for Optical Engineering
Co-sponsored by
Cooperating Organizations
American Astronomical Society
Astronomical Society of the Pacific
Canadian Astronomical Society
---
Manuscript Due Date:
23 February 1998
Abstract Due Date:
25 August 1997
How to Exhibit
Contact the Exhibits Department at
SPIE headquarters, 360/676-3290.
Fax: 360/647-1445
E-mail: exhibits@spie.org
---
For an Advance Technical Program
The comprehensive Advance Technical Program for this symposium will list conferences, paper titles, and authors in order of presentation; education program schedule, including course descriptions and instructor biographies; an outline of all planned special events and information detailing the hotel reservations process. Contact SPIE at 360/676-3290; fax 360/647-1445; or E-mail: spie@spie.org to request an Advance Program and you will be sent one as soon as it becomes available.
Invitation to Participate
Located close to Mauna Kea, Kona is an ideal site for SPIE's 1998 Symposium on Astronomical Telescopes and Instrumentation. Both Keck 1 and Keck 2 telescopes are in full operation, the Japanese SUBARU 8-m telescope is expecting first light in the summer of 1998, and the Gemini 8-m telescope is well along, so the summit is a very exciting place. Talks will be given on observatory operations, interferometry, telescope control systems, advanced technology telescopes, adaptive optics, infrared instrumentation, optical instrumentation, future space telescopes, and advance technology mm wave telescopes. Also, a limited number of tours to Mauna Kea and the Keck Observatory are planned.
Jerry E. Nelson, Univ. of California Observatories
Symposium Chair
---
Call for papers on
General Information
Registration
Registration fees for the Astronomical Telescopes & Instrumentation symposium and short courses, a registration form, and technical and general information will be available in the Advance Technical Program. Authors and coauthors are accorded a reduced symposium registration fee.
Hotel Accommodations
SPIE will reserve a block of rooms at the Kona Surf Resort and Country Club for attendees of this symposium. Room rates for the meeting will be $85 for single or double occupancy, plus 9.17% tax and $4.17 porterage fee. Triple occupancy will cost an additional $15 per room, per night. There is no charge for children under 18 years old sharing a room with parents but there is a $20 per night fee for a roll-away bed. Maximum of four persons per room.
A very limited number of rooms will be available at the prevailing government rate for Hawaii for 1998.
Kona Surf Resort and Country Club
78-128 Ehukai Street
Kailua Kona, Hawaii 96740 USA
Phone: 800-367-8011 or 808/322-3411
Fax: 808/322-3245